Insurance Replacement Appraisals:
We have two Certified Gemologist Appraisers on staff and can offer appraisals for insurance purposes on many types of jewelry and heirlooms.
Most insurance companies require a written appraisal of each item you wish to insure over $1000. Keep in mind that not all appraisals are created equal. The more details included in the appraisal, the easier it is to replace the item with a similar piece if lost or stolen.
An appraisal makes it easier to replace your jewelry item if it is lost or stolen. Appraisals can also help with a claim on an insured piece if there are lost stones or damage to your jewelry.
It is recommended that your appraisals be updated every 3-5 years. When there are substantial increases in the prices of metals and stones it is wise to have your appraisal updated because your piece easily becomes underinsured in these instances and you will not be fully covered in case of a loss.
You will need to submit a claim with your insurance company. In most cases a replacement piece will be provided. Some insurance companies provide you with the replacement in other cases you will be able to search out your own replacement.
First, we are qualified to provide the initial appraisal service. Second, we are able to work with your insurance company to find a replacement due to loss. Lastly, we are able to provide repair services for a claim of damage or lost stones. Any required replacement quotes can be provided in a timely manner.
---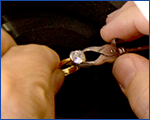 Diamond & Gemstone Resetting:
We offer a wide array of both classic and contemporary designs to update your current item whatever it might be….a ring, pendant, bracelet or inherited gemstone.
---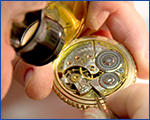 Watch Repair & Adjustments:
We offer in-store watch repair by an experienced watch professional on many makes and models of watches. We also offer watch battery replacements and watch bracelet re-sizing.
---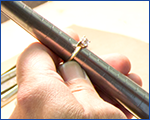 Jewelry Repair:
We offer a full service repair department capable of handling minor repairs to major restorations including ring re-sizing, prong re-tipping, stone replacements, safety chains and clasps, rhodium-plating, laser welding, chain and bracelet repair, pearl and bead restringing.
---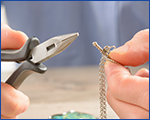 Clasp Replacements:
We can replace the clasp on your broken silver or gold chain, bracelet or necklace – sometimes while you wait!